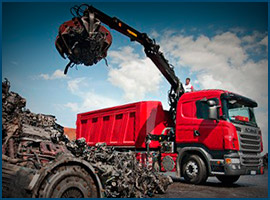 The recycling and utilization of scrap metal have economic and ecological importance!
The work on the acceptance of non-ferrous metals from organizations and enterprises helps us to meet the needs of industrial production in new types of products. Thus, we speed up and simplify the expensive way of extracting natural resources. Taking into account today's industrial development of our planet, the volume of metal used in the industrial sphere, it becomes clear that the extraction of metals is growing, as well as the volumes of scrap that regularly come into recycling. Proceeding from this, in many countries for more than a hundred years there are huge capacities for processing and recycling of metal wastes.
What is scrap and waste of non-ferrous metals?
Acceptance / purchase of scrap and non-ferrous metal waste does not mean that these materials should be in pure form. After being used for their intended purpose, products made from these metals and alloys are usually secondary raw materials. As items of purchase of non-ferrous metal there may be non-working parts, broken mechanical parts of products, profile and much more for further processing. Scrap and waste of non-ferrous metals and alloys are divided by the names of metals; On physical grounds, into classes; By chemical composition - into groups and grades of alloys; In terms of quality - in grades.
| | |
| --- | --- |
| Copper scrap | Metalworking waste and other wastes |
| Copper alloys scrap | Waste from copper alloys (brass, bronze, tombak) |
| Aluminum scrap | All kinds of scrap of aluminum and his alloys |
| Magnesium scrap | Airplane scrap |
| Titanium scrap | Aircraft and ship scrap of titanium alloys |
| Lead scrap | Rechargeable battery and cable |
| Redmetal scrap | Scrap of complex alloys and waste from high-tech industries |
| Semiconductor scrap | Wastes from the electronics industry |
The importance of scrap processing and non-ferrous metal waste
In the production of industrial products and in general in production and economic activities, there comes a time when it is necessary to get rid of scrap or waste of non-ferrous metals that can no longer be used as some structural, technical or household elements, and it has the only effective way - Recycling.
The main incentives and benefits of scrap processing of all types:
Reducing the load on metal deposits (currently severely depleted);
Improvement of the ecological situation;
Reducing the volume of fuel for the production of critical metals;
Reducing the scattering and dispersion of metals globally.
Energy saving in the utilization of non-ferrous metal waste:
Aluminum – 95%;
Copper – 85%;
Lead – 65%;
Zinc – 60%.
Therefore, by contributing to the procurement of scrap or non-ferrous metal waste, you are already making a major contribution to the development of the economy and the environment of the Republic of Uzbekistan and on a global scale.